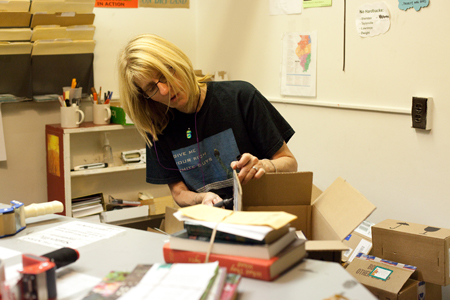 Janet has been a member of the CU community since 1970 and after being a supporter of our organization, began volunteering with BTP a year ago at the encouragement of friends who were active volunteers. Since Janet became a regular volunteer in the BTP workshop, her daughter Erinn has also began volunteering occassionally.
Janet may be one of the first volunteers to greet you as as you arrive at our workshop on Saturday afternoons and Tuesday evenings, as she spends most of her volunteer hours working in our anteroom packing orders.
Twenty years ago Janet realized the impact of providing books to prisoners while corresponding with inmates. Today at BTP you will often find her working at the packing table, a tasks she enjoys doing so other volunteers can spend their time selecting
just the right books
to respond to requests.
In addition to volunteering with BTP, Janet helps provide holistic, free health care to our community through her volunteer efforts with
Champaign County Christian Health Center
. Janet is uniquely qualified for this volunteer experience by her day job, working in the hematology lab at Carle Hospital, where she has spent the past six years of her 30 year career in the field.
Please join us in thanking Janet for her efforts the next time you see her around town or at the BTP workshop in the Independent Media Center.